Practicing: Changing Yourself to Change the World
Change starts with us.
From the masses of young people spurning organized religion to faithful followers of Jesus, there is a deep hunger across gender, age, socioeconomics, and denominational backgrounds for practical, tangible ways to live a life of love, mercy, and justice in our divided, fragmented world. But where do we start? It's easy to feel overwhelmed by the world's problems, with solutions to violence and poverty and oppression seeming so far out of reach.
But you have more power to change the world than you realize-and it starts with changing yourself.
In Practicing, Pastor Kathy Escobar inspires and challenges readers with practical encouragement to live their faith through real action using ten transformational practices, including listening more, including the marginalized, advocating for justice, and mourning with those who grieve. By putting our hearts, hands, and feet behind our good intentions, we can transform our groups, our communities, and our world. Extremely interactive, relational, and practical, Practicing can be read alone or processed together with a group, church, or class.
Order now on Amazon, WJKbooks.com, indiebound.org, and all other major online retailers. Group discounts available through WJKbooks.com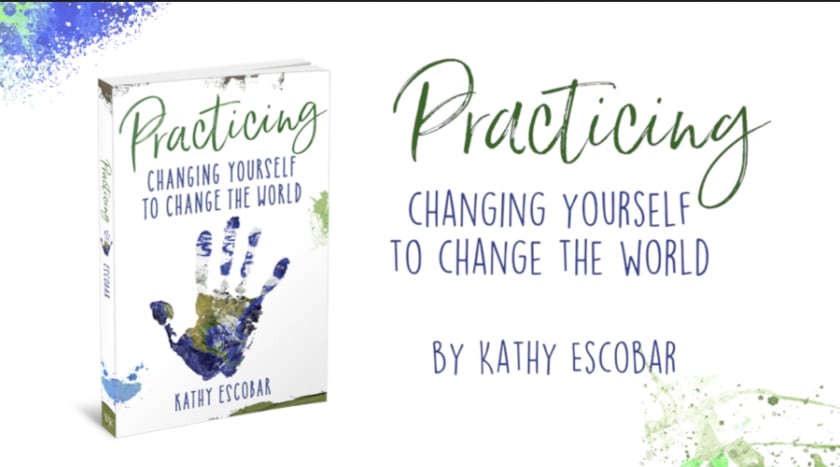 Advance praise for Practicing:
"Kathy is a leader I trust completely. Her work is so vital, so needed in our current landscape as the church struggles to navigate a path forward that is healthy and life giving and truly an embodiment of good news. Tender, weary, disoriented ones take heart: here is your pastor. Kathy is a faithful companion to those who wander, stumble, and, against all odds, continue to hope."
- Sarah Bessey, author of Jesus Feminist and Miracles and Other Reasonable Things
"Kathy Escobar has that rare and brilliant gift of being able to x-ray our lives and to give words to our fears, pains, and longings so that we can see them clearly. Practicing is both deeply moving and incredibly insightful. I know it will be both a place of refuge and a catalyst for transformation for those fortunate enough to read it. The world has never been more in need of a book like this-and Kathy is the only one who could have given it to us."
- John Pavlovitz, author of A Bigger Table
"I love Practicing: Changing Yourself to Change the World. It's practical and easy to read, deep and full of wisdom. And it's for everybody who isn't perfect and doesn't live in a perfect world-religious or not, spiritual or not, churchy or not. If you're perplexed and weary (or fired up and ready to go) and don't know where to focus your attention and energy, this is the next book you should read."
- Brian D. McLaren, author, speaker, and activist
"I trust Kathy's heart because I have seen her practice what
she preaches. Now she breaks open and preaches-in the
best way-what she has been practicing for so many years.
I, for one, need to take off perfectionism and lean into the
grace and wisdom of these practices. This is a beautiful,
humble, wise, and world-changing book."
-Idelette McVicker, founder of SheLoves magazine
"Kathy Escobar understands that the call toward authentic living is sacred and holy and for the greater good. In Practicing: Changing Yourself to Change the World, she shares the wisdom of her journey with fellow travelers who dare to take the road less traveled. Her clear and cogent guide is the kind of companion we all need as we practice generous living in these turbulent times."
- Paula Stone Williams, TED speaker and advocate for gender equity
"Escobar is a gem as a teacher and writer. You will leave this book better than when you picked it up. Every individual and every faith community will benefit from the lessons on these pages. This is an important piece of work for anyone who interacts with those on the margins of society (which is to say everyone), and the chapter on grief alone is worth the cost of the book."
- Jerry Herships, pastor and author of Rogue Saints and Last Call
"In an era of world history where the word Christian has become synonymous with theological debate, social inaction, and discrimination, Practicing emerges as a healing balm, offering a practical guide for people of faith to reconnect with our faith not just on a pious or intellectual level but in a way that impacts every aspect of our lives. With winsomeness, insight, and practical teaching, Escobar guides us on a path that will breathe new life into our faith and cause Christians to become a people who not only believe but also embody good news to ourselves, to others, and to the world around us. If you're ready for a spiritual renewal, read this book!"
- Brandan Robertson, lead pastor of Missiongathering San Diego and author of The Gospel of Inclusion: A Christian Case for LGBT+ Inclusion in the Church
"I don't go to Kathy for the latest social justice hot take. I go to her to learn how to translate meaningful ideas into meaningful action-to move from speaking truth to living out the truth in sustainable ways among the complicated realities of human lives intersecting one another. She never promises quick fixes but advocates for the slow labor of practicing in the direction of justice. She lives this stuff, as you'll see inside the pages of this book, and she lit the road so that we can travel on it together."
- Cindy Wang Brandt, author of Parenting Forward: How to Raise Children with Justice, Mercy, and Kindness
Practicing does not raise a ruckus and leave us hanging like an unscrupulous contractor who vanishes halfway through a major home renovation project. Instead, it allows for our fear of change while refusing to bow to the relentless pressure to stay small and safe. Kathy provides us a map and, perhaps most importantly, permission-permission to try, to fall down, and to rise and permission to have a little faith. What a great book!"
-Teresa McBean, copastor at Northstar Community and executive director of the National Association for Christian Recovery